Post by Neco on Mar 25, 2016 18:48:31 GMT -5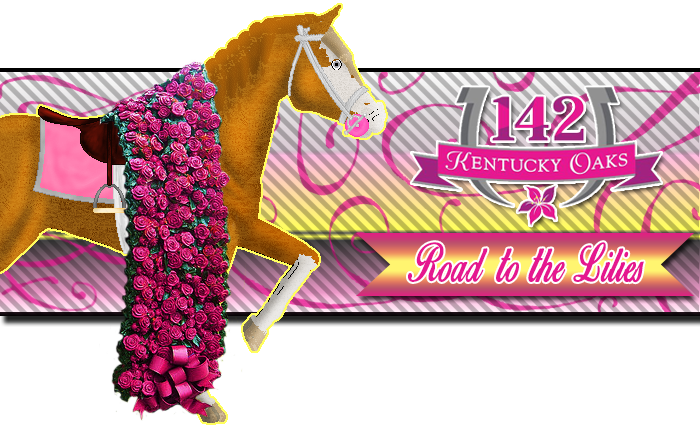 This is the 6th of 7 Kentucky Oaks preps on Seeing Stars! Any points your fillies earn in this race will be put toward a place in the starting gate of the Kentucky Oaks on May 6. Only 14 horses will be allowed to enter on Oaks Day, so enter as many preps as possible to build up point counts and stats! GI and under fillies/mares may enter! GI - GIII horses will incur high weight imposts to level the field.
ONLY FILLIES ARE ALLOWED TO ENTER THIS RACE!
Any horses that competed in the 2011 - 2015 Triple Crown trails are ineligible to enter this race. See this thread for a full list of ineligible horses.Rules
+ Fill out the whole form
+ Up to three horses per person, will race AT A MAX OF 14 HORSES
PLEASE NOTE. When entering, COUNT THE HORSES IN FRONT OF YOU. Only 14 horses max are allowed per race - please make sure when you enter, you are not over the limit. I do not want to have DQ anyone for any reason.
Results:
1st - 5 points to add to one stat of your choice
2nd - 4 points to add to one stat of your choice
3rd - 3 points to add to one stat of your choice
4th - 2 points for add to one stat of your choice
5th - 1 point to add to one stat of your choice
------------
Oaks Points:
1st - 10 pts
2nd - 4 pts
3rd - 2 pts
4th - ? - 1 pt
----------------------------------
A soaking thunderstorm in the late morning has since dried up and the once sloppy track has been upgraded to good as post time rolls around for the 2016 edition of the Ashland Stakes. Two weeks ago, Antebellum sprang the upset to edge out previous winners Cyclone Princess and Rozlyn to catapult to number three on the points board. This week, two year filly champion Princess is back as the favorite with top distaffer Wind installed as the second choice, with Rozlyn sitting third along with stakes winners Armin, Honestly and Charisma, all coming off good efforts in prior races. Antebellum, despite her win, sits further up the board along with other winners War Chimes, SeaBlue Royalty and Midnight, with Zenyanotte and Phar South rounding out the field as hotly debated longshots. With a dirt track still damp from this morning's storm, it's 12 fillies to take to the oval and fill the gate for this year's Ashland Stakes. With many of these fillies proven winners on an off going, it's anyone's race as the stalls close on the second last stop to the Lillies.
The Road to the Kentucky Oaks continues now on SS!