Post by warhorse on Oct 18, 2015 22:52:36 GMT -5
Hey Guys,
Just wanted to give everyone a small update about whats been happening in my life. I have been incredibly busy with very little free time and I do try and spend some free time here with you all. As some of you may or may not remember I had a situation almost a year ago with my three year old(now four year old) quarter horse. I was in a dilemma to sell because my trainer told me he was to much horse for me and it was looking like I wouldnt be riding him for at least another year to two years. I never intended to keep a horse in training this long and I am not sure what I expected by getting a 2 year old and working a full time managing position at a restaruant?! Anyways I spent alot of money on this horse, and eventually couldnt afford to keep him in full time training anymore. So I asked for everyone's advice here. Many of you agreed with me, that with him being to much horse and what my current goals were that it was the best idea and the best for both myself and the horse to sell him to a performance show home, since really thats what kind of horse he is. He is from a very well known stallion that has made a big impression on the reining and cow horse world, Sophisticated Catt and his mare has been fairly successful Play Missy Val. Originally he was bought as a birthday present from a girlfriend to her boyfriend, after she admitted to cheating on him he wanted to just get rid of all things that reminded him of her, including that 2 year old colt. I happened to be in the right place at the right time and well thats when I was offered a 2 year old QH that I could have never afforded in a million years with his bloodlines. I got in over my head fast and well thats where I left everyone off. The horse has almost 2 years professional training with a trainer that was local about 1 1/2 hours from me. I did some research before deciding to sell him and found out I could sell him for about 12k to 15k with his amount of training, his temperament, color and of course bloodlines. I then perceeded to offer my trainer to buy him out from me, in hopes to get something older that would be a better fit for me. Well long long story short he tried to trade me for a lame horse that he told me was capable of much more than he is ( that he vauled at only 2500 for my 3 year old colt) I had a good friend who also works with him, warn me that it didnt sound right and she couldn't believe he offered me a horse I couldnt use for anything for my horse(that in a year if kept in training would have killed it in the show ring). He was doing very well with his training. ( he is a bit wiggly though lol) My trainer then wouldnt talk numbers and just tried to scam me. He told me no one could ride Hook and that he wouldnt sell for much so I was better off giving him to him and taking one of his horses and paying the difference. He was trying to take full advantage of me. I was so torn and confused that I called hooks original owner and asked him what to do. He was furious and the next day went and picked my horse up and took him to his house. (that resulted in royally pissing off my trainer and I lost 700$ training money for that month that I couldnt get back that never went into the horse)
My friend then kept hook for one week and then called me. HE said come down here now and ride your horse. I went down there, literally shaking in my boots and took a lesson on my horse for the first time in almost 2 years of having him. He did GREAT! I then took him to another friends and stayed with her for a few days and took lessons on him 2x a day. I left him down there for quite some time and drove down once a week to visit him. He then got hurt because of some girl's ignorance and lack of knowledge and patience. He is all healed now. 100 stitches later and a huge laceration across his entire chest.
(another story for another day)
Soon after I was offered a management position at my friend hunter/jumper barn and an open stall for my young colt. So almost 8 months later here we are, in HB. I work 6 days a week and have developed a strong relationship with him. I pay my friend to trainer ride him once a week and I take a lesson on him once a week. The other three days I just work on our goals for the week. Its been a long crazy journey for us and he is only 4!!!!! I have to say he is not the horse I wanted but he is the horse I needed and he tests me and teaches me every day. I am forever grateful for him and our journey together.
Here are some photos of him in his new barn where I work and a video of him with the ball. Hes got ALOT of PErsonality. I would really love for someone to hex him one day. HE is unusual, but he is a registered grey horse but many people mistake him for an appaloosa. He is still growing and is seriously hilarious. Hes always into something.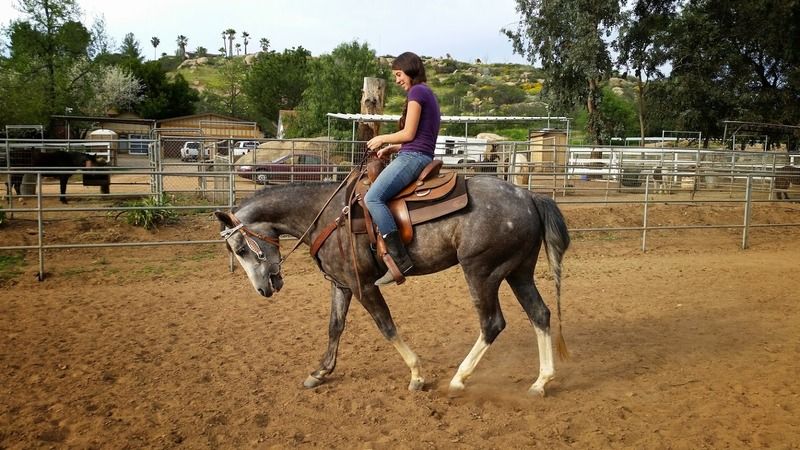 and a video of him being ridiculously cute
www.youtube.com/watch?v=OHDKq1e0hno&feature=youtu.be