Post by Neco on Jun 4, 2016 11:53:51 GMT -5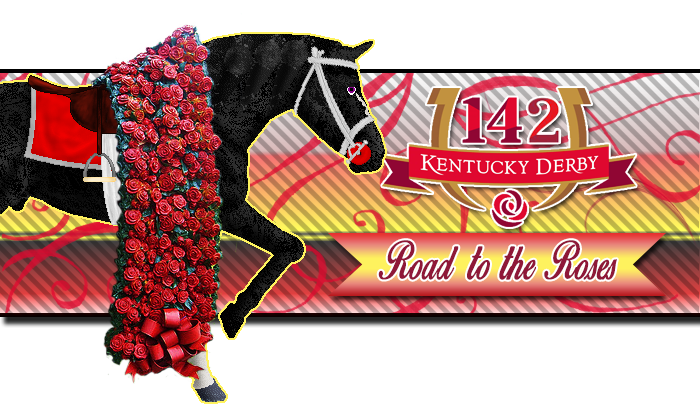 Three weeks ago, Skeptic held off the determined late charges of every foe in the book as the son of Sent By Ares continued his family's legacy of Preakness victories and beat his sister's record set last year to boot. Now a record holder in a Triple Crown race and poised to become the forum's second Triple Crown winner, Skeptic faces a wall of history and challengers as we move to the final battle, set in beautiful Belmont Park in New York state. Skeptic has never ran a bad race in his life and he will have to be at the top of his form, mentally and physically, as the daunting mile and a half Belmont Stakes looms before him. The end of the road is nigh and the Triple Crown is on the line here on SS!
WELCOME to the 6th Renewal of the
Seeing Stars Belmont Stakes!!
Rules
+ Please post the entire form when entering
+ Up to three horses per person, will race AT A MAX OF 14 HORSES
PLEASE NOTE. When entering, COUNT THE HORSES IN FRONT OF YOU. Only 14 horses max are allowed per race - please make sure when you enter, you are not over the limit. I do not want to have DQ anyone for any reason.Automatic Qualifiers for the 6th Belmont Stakes!
These colts have precedence over all other horses entered!
1. Skeptic
2. Dortmund
3. Rancor
4. Warlord
5. Bells o War
BE AWARE

Any horse that enters this race is automatically considered a three year old
and cannot participate in next year's Triple Crown!

If you're not sure if you want to enter - DON'T!
Save your horse for the Breeders' Cup and a sure chance next year!
------------
Results:
1st - 7 points to add to one stat of your choice
2nd - 6 points to add to one stat of your choice
3rd - 5 points to add to one stat of your choice
4th - 4 points for add to one stat of your choice
5th - 3 point to add to one stat of your choice
------------
Purse:
1st: 5000 SS
2nd: 2500 SS
3rd: 1250 SS
4th: 625 SS
5th: 312 SS
--------------------
Three weeks ago, Skeptic burned his rivals to a crisp and demolished his half-sister's stakes record in the process for a record win in the Preakness Stakes. The red son of Sent By Ares continued his family's affinity for the Preakness and he returns for the greuling 12 furlong distance as a Triple Crown hopeful against only 7 other rivals. Skeptic is the morning line favorite with Rancor close behdin in the bidding; Riparian and American Pharaoh are both third choice and could prove to be a danger, with the speedy Warlord and Dortmund as the only other single digit entries. Bells o War comes off a win in the Rio series but is still a longshort with Remington the longest of them all, as he still searches for a 2016 victory. With only 8 colts heading to the track under the threat of rain, it is Skeptic with the biggest target on his back in his career, and he'll have to face five other speed horses and two closers to get it done as they load into the gate for the 2016 Belmont Stakes.
The Triple Crown all comes to an end NOW on Seeing Stars!