Post by Jewellz on May 14, 2015 5:14:28 GMT -5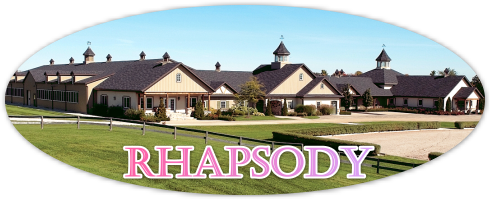 Rhapsody Stables is located in Colorado at the base of the Rocky Mountains. The stable was established in the spring of 2015. Just over half the horses that call Rhapsody home are Thoroughbreds. However, we do specialize in Westfalens, Sporthorses, PSLs, and Morgans as well. All of our Thoroughbreds are racers, but they are also shown in other disciplines such as Show Jumping, Halter, In-Hand, Hunter Under Saddle, and Eventing. Every horse at Rhapsody competes in Dressage because we consider it one of the best disciplines to physically exercise and mentally stimulate the horse, while also building a great bond between the horse and rider. We are also pretty active in the Eventing and Show Jumping scenes.
Statistics
♦ Rhapsody's horses currently hold a combined total of
207
titles!
♦
Our
73
Thoroughbreds hold a collective
91
titles
♦
Our
52
other horses hold a collective
116
titles
♦ On average, each of our horses holds
1.7
titles
♦ The highest number of titles that any one horse at Rhapsody holds is
7
♦
We have
1
horse that holds
7
titles: Riddle, our very first horse!
♦
We have
5
horses that hold
6
titles each: Avacyn, Rowan, Skeptic, Twilight, & Vintage
♦
We have
3
horses that hold
5
titles each: Aurelia, Delight, & Mithril
♦ Of our
125
horses, there are
114
titles currently in progress
Rhapsody's goals are ultimately to breed, show, and own some of the top horses in Racing, Dressage, Show Jumping, and Eventing. We focus mainly on breeds that excel in these disciplines. Thoroughbreds are usually good all-rounders (and the only breed that can compete in Racing at the moment), while our second favorite breed, Westfalens, are bred for Dressage and Show Jumping specifically, and as such, they also make great eventers. Our focus is mainly on showing and racing our horses, with a new acquisition here and there, although we do love breeding and raising foals too.
While browsing the stalls here, you'll notice that horses that are "champed" in a discipline will have a ribbon in front of their name in their stable page thread title. If they hold multiple titles or achievements, there will be multiple ribbons! The following key shows what colors denote which achievements.
Title Ribbon Key

Multicolor: Show Discipline Grand Champion, TBs only: Eclipse Champion or Triple Crown/Tiara winner

Blue: Show Discipline Champion

Purple: TBs only: Breeder's Cup winner

Red: TBs only: Spring Classic winner (either American or British)

Yellow: TBs only: Dubai World Cup Carnival winner
---

Our Thoroughbreds race under two different silks, one is for our horses acquired from other stables (pink), and one is for Rhapsody-bred horses (lavender).




---
I adore all of my horses but there are a few who stand out as being extra-special, they've either bonded really well with me or they're exceptional at competing in their chosen disciplines. I'll highlight a few of them below...
Delight - Rhapsody's Light in the Darkness
- 17.1hh Cremello Westfalen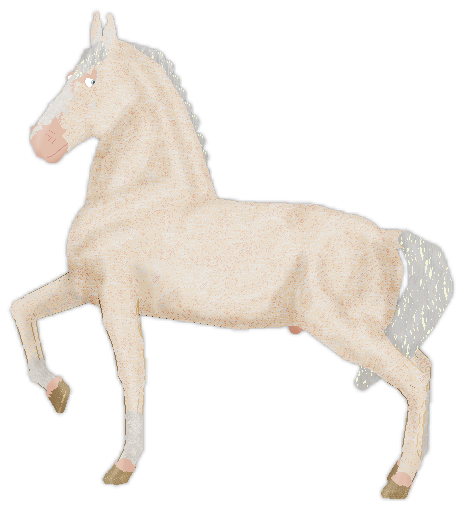 This lovely boy is the first horse I ever hexed. His name comes from how happy I was to become a fileholder, and now all of my Westfalens have "light" themed names. I created this cremello texture especially for him! He's so goofy and lovable, and quite the character, he won Neco's first 10K Funniest Horse contest! He's an Intermediate I level Dressage horse, a Preliminary eventer, and he's also titled in Halter, In-Hand, and Show Jumping. He won silver in Olympic Show Jumping and bronze in Olympic Eventing in the 2016 Olympics!
Skeptic - Hawkstone Skepticism at Rhapsody
- 16.3hh Chestnut Sabino Thoroughbred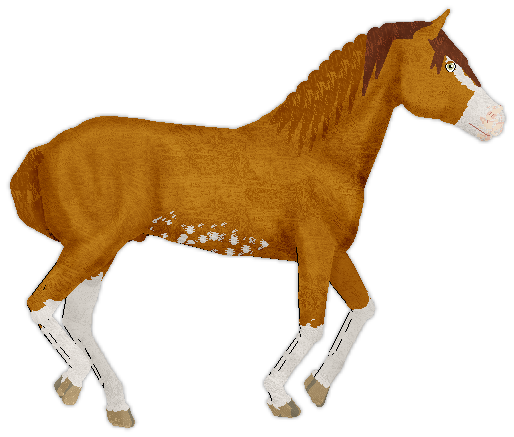 Skeptic is one of my best TBs ever. He's
won
almost half his starts, and in 59 races, he only placed below 3rd ten times. He came very close to winning 2016's Triple Crown, but finished 3rd in the Belmont Stakes. Disappointing! However, this guy is still amazingly talented and I can't get over how good he is, on
and
off the track. He's set
11
records on the track, including a new stakes record for the
Preakness
, which knocked a second and a half off from his half-sister's record from the prior year, and he knocked down a three-year-old record in the 2016 Breeder's Cup Sprint! He's an Intermediate I level Dressage horse, a Preliminary eventer,
undefeated
in Halter, and also titled in Show Jumping, In-Hand, and Endurance. He won gold in the Olympic Dirt Mile race and silver in Olympic Halter in the 2016 Olympics!
Apparition - Hard Tack Unexpected
- 17hh Smoky Black Grey Thoroughbred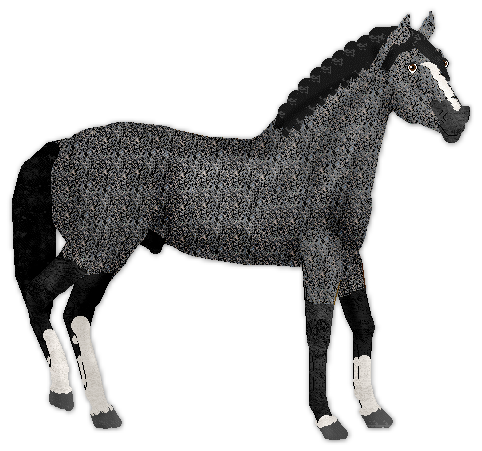 This guy isn't the best racer, though he does have a lot of heart. He's placed (in the top 3) in about 50% of his starts, so he's not terrible, but not necessarily notable either. However, he is
amazing
at Show Jumping! He's
undefeated
! He's also done well in Halter and Hunter Under Saddle, and he's making a foray into the western side of things and currently competing in Reining! Apparition is one of the ideal Thoroughbreds to represent Rhapsody's long-term goals, whether our Thoroughbreds are notable on the track or not, they may still excel in other disciplines. ♥
---

Rhapsody is approved for breeding Rafa's Westfalen horses! If you are interested in acquiring one, send me a message! All of Rhapsody's Westfalens will excel in Show Jumping and Dressage, and be shown in at least one other discipline, such as Eventing, Halter, In-Hand, or Hunter Under Saddle.